Form A

The Iowa Tests Form A are nationally normed standardized tests that offer educators a diagnostic look at how their students are progressing in key academic areas. Available for K-12, the Iowa tests allow educators to trace student achievement growth continuously. These tests can be administered year-round. The IOWA can be taken with the Interest Explorer™ to provide career guidance and counseling for 9th-12th graders, or with the Cognitive Abilities Test™ (CogAT) to identify gifted and talented students as well as at-risk students who may need further assessment.
B.A. or B.S. degree required for administration.
Iowa Tests of Basic Skills (ITBS®)
Grades K-8
Iowa Tests of Educational Development (ITED®)
Grades 9-12
The IOWA Form A Evaluates:
Language Skills

Vocabulary
Reading
Language

Word Analysis (Grades K-3 only)
Listening (Grades K-3 only)
Spelling

Mathematics

Math Concepts
Math Computation

Science, Social Studies, and Study Skills

Social Studies
Science Materials
Tests must be returned to Seton by August 15, 2019 in order to be scored.
Ordering the IOWA Form A
Place your order 3 weeks to 5 months BEFORE your desired test date.

July 1-February 28 ONLY: To test sooner than 3 weeks out, do the following: After selecting the earliest test week, in the comments box just above the "Place Order" button, say: "SEND IMMEDIATELY."
March 1-June 30: IOWA, CogAT, & TerraNova/CAT 6 orders placed over the phone or online cannot be moved up and will ship 2 weeks before your testing date. This applies to walk-in customers also.
WHAT YOU GET: The price of an IOWA A test covers the 21-day rental cost of the student test booklet, test administration directions, answer sheet, basic shipping to you, scoring, and posting the test results.
IOWA Practice Tests (Grades K-12)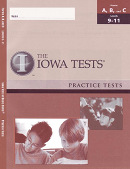 Iowa Tests of Basic Skills® Practice Tests, published by the Iowa Test publisher, are available for grades K–12. These short practice tests (7-18 pages) will give students an idea of what to expect on test day and increase their confidence in taking the test. A few practice questions (about 2-8) are given in each of the subject areas. The answers are provided in the Practice Test Directions for Administration booklet.
Directions for Administration read like a script, and students mark their answers in bubbles as in an actual test. Practice Tests are untimed but can be completed in 1 hour. For the most effective use, the practice test should be administered one to two days before the test date. Iowa Practice Tests can be administered by anyone. These practice tests are especially recommended for students testing for the first time. When students transition from marking answers in the booklets to filling out a separate answer document starting with the IOWA Level 9 (Grade 3), these IOWA practice tests are a good preparation. Practice tests are available in kits or as individual student practice tests.
*Student Practice tests for GRADES K, 1, & 2 (Levels 5-6 & 7-8) CANNOT be administered without using the Administration booklet.
OUT-OF-STOCK of Levels 5-6, 9-11, & 12-14 IOWA Form A Practice Kits. Replace with the corresponding IOWA Form E Practice Kit.
IOWA Practice Test Kit (1 Admin. Booklet with Answer Key & 1 Student Test Booklet) $16.00
---
Scoring High on the IOWA (Grades 1-8)
This practice test program is one of the most comprehensive available for the IOWA Tests of Basic Skills. With both a Student Edition of approximately 140 pages of practice tests, and a Teacher's Edition of nearly 180 pages (including answer keys and scores of tips and suggestions for teaching test-taking skills), the program gives your student the self-confidence they need over several weeks of test practice. The Student Edition includes these features and opportunities:
Practice questions in Reading, Spelling, Language, Mathematics, Science, and Study Skills
Teaches student(s) how to manage their test time
Familiarizes the student with the test format
Teaches test-taking strategies and tips that promote success
Expanded practice opportunities
$47.00 for the Kit (Includes Teacher's Edition Book and Student Workbook) Copyright 2007.
$18.00 (Student Workbook only – NO TEACHER BOOK/NO ANSWER KEY) Copyright 2007.
*Please note, we do not recommend ordering only the Student Book unless you have already purchased the Teacher's Edition. The Student Book for grades 1 and 2 cannot be completed without the Teacher's Edition. You may purchase the student book separately if extra copies are needed.

Administration and Completion
Administration
BA or BS Degree Required for administration. Follow the directions for administering the test.
K5–2 (Levels 5–8) must be administered separately by grade.
Grades 3–8 (Levels 09–14) may be administered together.
Grades 9–12 (Levels 15–17/18) may be administered together.
Note that Level 9 includes two extra subtests—Word Analysis and Listening.
Completion Times
Tests for levels 9-17/18 are timed. Levels 5R and 6 are untimed and levels 7 and 8 are untimed except for a portion of Math Computation. Times listed in the administration directions for levels 5R-8 are only estimates.
K5–3 (Levels 5-9): 2.5–5 total hours over 3 days
Grades 4–8 (Levels 10-14): 3.5-6 total hours over 3 days
Grades 9–12 (Levels 15-17/18): 3.5-4.5 total hours over 2 days
Note: These are approximate times for the Full Battery. If you opt to do just the core portions of the test (Reading, Language, and Math), administration time will decrease substantially.
IOWA Form A FAQ
Is the IOWA Form A a timed test? How long does it take to administer?
Yes, it is timed and takes from one and one-half hours to five and one-half hours of actual working time for the students to complete, depending upon the grade level and the test taken. IOWA tests are not timed in Levels 5R-8. Levels 7-8 on the IOWA are timed only in the Mathematics Computation section of the test.
Each section for the IOWA Form A is no longer than 30 minutes. No more than two or three tests should be given in one day. The tests should be spread out over a three or four day period.
See what is tested at each level and the completion times for each section.
Why are there two test level options for grades K-2?
The first option is for Fall testing. The second option is for Spring testing. For example, Grade 1 Level 6 is for 1st graders in the Fall of the school year. Grade 1 Level 7 is for 1st graders in the Spring of the school year.
What type of test is the IOWA Form A?
The IOWA Form A is a nationally normed achievement test. Achievement tests measure skills that are learned in school and address specific content areas such as reading and mathematics and measure academic progress. Your child's scores are compared to the scores of other children who have taken the test, the norming population for the test. There is no direct correlation between the number of correct answers and the percentiles reported. If, for example, a student scores at the fifty-seventh percentile, it indicates that a student scored higher than fifty-seven percent of students who took this test in the national sampling group for his grade level, not that the student got fifty-seven percent of the questions correct.
What is tested on the IOWA Tests of Basic Skills (ITBS®), Grades K-8?
The IOWA Form A tests students in Reading (Levels 6-14), Language (Levels 5R-14), Math (Levels 5R-14), Vocabulary (Levels 5R-14), Spelling (Levels 7-14), Word Analysis (Levels K5-9), Listening (Levels K5-9), Social Studies (Levels 9-14), Science (Levels 9-14) and Sources of Information (Levels 7-14). The Sources of Information test for Levels 7-8 measure students' abilities to use information resources and to judge their usefulness. At Levels 7 and 8, a single Sources of Information test assesses students' skills in alphabetizing and in using picture dictionaries, tables of contents, and maps. All questions for those sections for Levels 7 and 8 are read aloud by the teacher. At Levels 9-14, there are two separate tests for Sources of Information: Maps and Diagrams and Reference Materials. Click the following link for a detailed chart of the IOWA Form A Scope & Sequence.
What is tested on the IOWA Tests of Educational Development (ITED®), 9-12?
The ITED is the IOWA Form A test for high school students. It tests students in Grades 9-12 in the areas of Vocabulary, Reading Comprehension, Language (Revising Written Materials), Spelling, Mathematics (Concepts and Problem Solving and Math Computation), Analysis of Social Studies Materials, Analysis of Science Materials and Sources of Information. The Sources of Information test evaluates students' abilities to use important information sources. The skills a student needs in order to find and use data efficiently include familiarity with the resources of a well-equipped media center. Click the following link for a detailed chart of the IOWA Form A Scope & Sequence.
Do students have time to complete the IOWA Form A in the allotted time?
The IOWA Form A test is designed so that almost all students have time to complete the test. Levels 5-8 of the IOWA Form A test are untimed, except for the Math Computation Test in Levels 7-8. The percentage of students completing the final question in each section of each subtest varies by grade and format. Approximately 94-99% of students complete the tests in the time allotted. Please read and adhere to the testing directions for the timing of each test section.
Can the IOWA Form A be administered to students with special needs?
The IOWA Form A can be administered with accommodations or modifications to students whose special needs may make it difficult for them to demonstrate their achievement when standard testing procedures are used.
Most students requiring accommodations or modifications will have been identified as eligible for special education services and will have an Individualized Education Program (IEP), an Individualized Accommodation Plan (IAP), or a Section 504 Plan. The IEP or other plan ordinarily indicates whether the student should receive testing accommodations or modifications during standardized assessments and what the nature of those accommodations or modifications should be.