Scoring High on the TerraNova/CAT (Grades 1-8)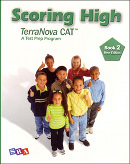 This test prep program is one of the most comprehensive available for the TerraNova/CAT Test. With both a Student Edition of approximately 140 pages for extensive study, and a Teacher's Edition of nearly 180 pages (including answer keys and scores of tips and suggestions for teaching test-taking skills), the program gives your student(s) the self-confidence they need over several weeks of test practice. The Student Edition includes these features and opportunities:
Practice questions in Reading, Language, Word Analysis, Spelling, Language Mechanics, Vocabulary, Mathematics, and Science
Teaches student(s) how to manage their test time
Familiarizes the student with the test format
Teaches test-taking strategies and tips that promote success
Expanded practice opportunities
*Please note, we do not recommend ordering only the Student Book unless you have already purchased the Teacher's Edition. The Student Book for grades 1 and 2 cannot be completed without the Teacher's Edition. You may purchase the student book separately if extra copies are needed.
$47.00 for the Kit (Includes Teacher's Edition and Student Workbook) Copyright 2007.

$18.00 (Student Workbook only – NO TEACHER BOOK/NO ANSWER KEY) Copyright 2007.