Chat with a specialist
How to Order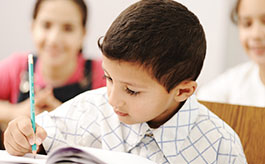 The Iowa Tests meet most state's requirements for an annual, nationally normed standardized test and offer educators a diagnostic look at how their students are progressing in key academic areas.
Available for Kindergarten to Grade 12, the Iowa tests allow educators to trace student achievement growth continuously. These tests can be administered year-round by someone with at least a B.A. degree.
Iowa Test of Basic Skills (ITBS®)
Grades K-8
Iowa Test of Educational Development (ITED®)
Grades 9-12
The IOWA Evaluates: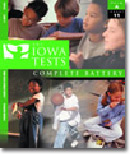 Language Skills

Vocabulary
Reading
Language

Word Analysis (Grades K-3 only)
Listening (Grades K-3 only)
Spelling

Mathematics

Math Concepts
Math Computation
Science, Social Studies, and Study Skills
Administration and Completion Times

Administration:
K5–3 (Levels 5–9) must be administered separately by grade.
Grades 4–8 (Levels 10–14) may be administered together.
Grades 9–12 (Levels 15–17/18) may be administered together.
Note that Level 9 includes two extra subtests—Word Analysis and Listening.
Completion Times: Tests are timed, except for Levels 5 and 6.
K5–3 (Levels 5-9 ): 2.5–5 hours over 3 days
Grades 4–8 (Levels 10-17/18): 3.5-6 hours over 3 days
Grades 9–12: 3.5-4.5 hours over 2 days
Note: These are approximate times for the Full Battery. If you opt to do just the core portions of the test (Reading, Language, and Math), administration time will decrease substantially.
Scoring Reports and Results

Scores available online in your user account within 2 weeks of the date we receive your returned testing materials.
Year-round machine scoring locally, except for Interest Explorer, taken with the ITED Grades 9-12.
Official IOWA reports with norm-referenced scores: scaled, grade equivalent, stanine, and percentile rank and graphed achievement percentiles.
Additional Primary Reading Profile (PRP) score report for Kindergarten through Grade 3.
Interest Inventory, optional report available with the IOWA for Grades 9-12 when you take the Interest Explorer. Additional 4 to 6 weeks required for scoring results.
Ordering and Return of Testing Materials

Orders must be placed at least 3 weeks in advance of the test date.
Test Agreement Form must be completed prior to shipment of product.
Tests can only be purchased by homeschooling families, homeschool support groups, or small private schools (enrollment under 100 or else email us).
Testing materials are rentals only and must be returned undamaged to Seton via a trackable shipping method immediately after the testing session, unless special permission is obtained from Seton.
Damaged or lost materials will incur additional expense, and will be charged to your credit card.
IOWA – Complete Battery

IOWA – Complete Battery with Interest Explorer