Cognitive Abilities Test™ (CogAT)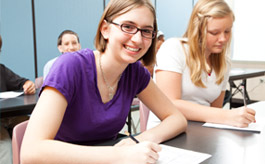 The Cognitive Abilities Test™ (CogAT) is an aptitude test that measures a student's general and specific cognitive abilities. It measures learned reasoning and problem-solving skills in 3 areas: verbal, quantitative, and nonverbal, which are closely tied to academic success. The CogAT is often used to identify gifted and talented students. It helps homeschool and private school educators understand their student's cognitive strengths and weaknesses and learning styles. This testing tool is also used to identify at-risk students who may need further individual assessment. The CogAT provides predicted achievement scores when administered with IOWA Tests. B.A./B.S. degree required for administration.
The CogAT Evaluates:
Verbal Abilities

Verbal Classification
Sentence Completion
Verbal Analogies

Quantitative Abilities

Quantitative Relations
Number Series
Equation Building

Nonverbal Abilities

Figure Classification
Figure Analogies
Figure Analysis
Ordering and Return of CogAT Testing Materials
Orders must be placed 3 weeks to 6 months in advance of the test date.

Test Agreement Form must be completed prior to shipment of product.

Tests may only be rented by homeschools or private schools.
Testing materials are rentals only and must be returned undamaged to Seton via a trackable shipping method within 21 days of the test date unless special permission is obtained from Seton.
ALL testing materials (booklets and instructions) must be returned to us BEFORE your tests are scored.
DO NOT return test materials in separate shipments.
Damaged or lost materials will incur additional expense, and will be charged to your credit card.
For refunds and other policies, please see Policies & Procedures for the IOWA, CogAT & Interest Explorer.
Administration and Completion Times
Available for Grades 2-12.
All levels may be tested together.
All levels take approximately 2½ hours to complete.
CogAT can be administered in whole or in part, however, the most complete view of a student will be provided through administration of all three batteries.
Recommended to take the CogAT every two to three years. It may be ordered separately or combined with IOWA Tests. Combining achievement tests and learning ability tests can help you develop reasonable expectations for your student's progress, based on his or her abilities.
Scoring Reports and Results
ALL testing materials (booklets and instructions) must be returned to us BEFORE your tests are scored.
Year-round machine scoring locally, except when taken with the ITED & Interest Explorer, (Gr. 9-12)
Narrative Report
Verbal and Nonverbal Scores (including quantitative)
Predicted Achievement Scores if taken with the IOWA
Age/Grade Percentile Scores
Standard Age Scores
Interactive Ability Profile Interpretation System
(This link will take you to an external site that was built to enable teachers and parents to interpret the Cognitive Abilities Test™ (CogAT) Ability Score Profiles for their students.)
CogAT (Grades 2-12)
CogAT with IOWA (Grades 2-12)
CogAT with IOWA (ITED) and Interest Explorer (Grades 9-12)