CogAT Practice Tests (Grades K-12)
Kit – $16.00
Student Test Only – $4.00
The CogAT (Cognitive Abilities Test) Practice Test Kit helps students, grades K-12, become familiar with the kinds of questions (not actual content) used in learning abilities tests. The student answers two to four questions in the actual test format in the following content areas: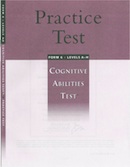 Grades K-2

Grades 3-12

Oral Vocabulary
Verbal Reasoning
Relational Concepts
Quantitative Concepts
Figure Classification
Matrices

Verbal Classification
Sentence Completion
Verbal Analogies
Quantitative Relations
Number Series
Equation building
Figure Classification
Figure Analogies
A detachable answer sheet is included with each test. It is recommended that the test be given one to two days before the actual test date.
The CogAT Practice Test Kit consists of one Student Practice Test and one set of Directions for Administration. For multiple students at the same level, order additional student tests separately.
*Student Practice tests, Grades K-2 CANNOT be administered without using the Directions for Administration.
CogAT Practice Kit GRADES K-2 (Directions for Administration, Answer Key, and Student Practice Test) $16.00
CogAT Practice Test GRADES K-2 (Student Test Only – NO DIRECTIONS/NO ANSWER KEY) $4.00
==============================================
CogAT Practice Kit GRADES 3-12, Levels A-H (Dir. for Admin., Answer Key, and Student Practice Test) $16.00
CogAT Practice Test Gr. 3-12, Lvls. A-H (Test Only – NO DIRECTIONS/NO ANSWER KEY) $4.00