Chat with a specialist
How to Order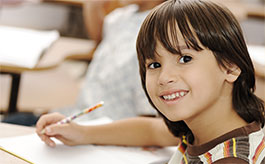 The California Achievement Test, CAT E/Survey, Grades K-12, is a nationally normed standardized test that measures achievement in the areas of Reading, Language Arts and Math. It meets most states' requirements for an annual assessment for homeschool and private school use. This is a Core Battery/Survey Edition and takes approximately 2½ hours to administer. NO BACHELOR'S DEGREE REQUIRED!
The CAT Evaluates: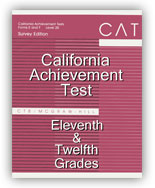 Visual Recognition (Grade K only)
Sound Recognition (Grade K only)
Vocabulary
Comprehension
Language Mechanics
Language Expression
Math Computation
Math Concept and Applications
Administration and Completion Times

Administration:
Completion Times:

K–3 (Levels 10-13) must be administered separately by grade.
Grades 4–12 (Levels 14–20) may be tested together.
Scoring Reports and Results

Scores mailed to you within 2 weeks of the date we receive your returned testing materials. Test scores available online, if you created a user account.
Year-round machine and hand scoring at our facility
Norm-referenced scores: raw scores, stanine scores, percentile ranks, and composite percentile ranks
Test score interpretation
Test Administration

No Bachelor's Degree Required.
Ordering and Return of Testing Materials

Testing orders usually filled and shipped within 24 hours.
Testing materials are rentals only and

must

be returned undamaged to Seton upon completion of testing.
Damaged or unreturned testing materials may incur additional charges.
California Achievement Testing Kit
California Achievement Test
Test Prep