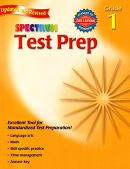 Spectrum Test Prep (Grades 1-8) $10.00

For Use with CAT, IOWA and TerraNova (CAT 6)

The Spectrum Test Prep workbooks – though not necessary for taking the CAT – are designed to maximize your child's performance while taking standardized tests. The book includes practice tests which correlate with the processes and objectives of the five most commonly-administered standardized and proficiency tests:
California Achievement Tests
Comprehensive Tests of Basic Skills
Iowa Tests of Basic Skills
Metropolitan Achievement Test
Stanford Achievement Test
Will help students feel more comfortable and at ease when taking the standardized tests. Mathematics, Reading, English, and Vocabulary, Social Studies and Science tests.